BUY ONLINE
or
CALL US
to
order or for further advice on
our products
+44 (0)1892 783240

Information by animal
horses
MIDGE BARRIER: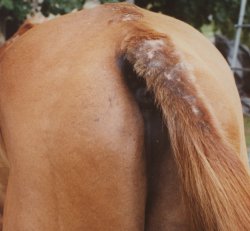 Results of rubbing tail due to midge bites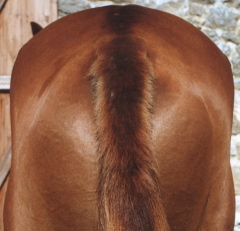 After 8 weeks of using Camrosa as a barrier to midges
Camrosa Ointment was first developed to help Woody, our logo pony who had an allergic reaction to the culicoides midge bites.
Camrosa is an effective water repellent barrier for horse skin. Allergies to the culicoides midge bites can be very distressing and can commonly cause hair loss in horses and ponies that are susceptible, due to the horse itching. The reaction can vary in severity from mild rubbing of the mane and tail with some hair damage and breakage to:
Flaky skin
The horse itching its mane, tail, face, belly and back
Hair loss on the areas listed above due to rubbing
Skin on the crest and tail becomes ridged and thickened with weeping sores
Dry, crusty and damaged skin
These signs are typically associated with spring, summer and early autumn but are now increasingly common in the milder winters.
In the case pictured Camrosa Ointment was applied as a barrier to the midges weekly for 2 months. The midges could no longer bite and cause intense irritation to the horse. Dry skin was softened by the ointment, which kept the skin supple promoting the natural healing process. This in turn encouraged good skin condition, which is necessary for hair regrowth.
Weekly application is usually sufficient for most cases and no other products or regimes are required. No stabling is necessary and after applying Camrosa Ointment horses can be turned out to the full midge challenge.
Video showing how to apply Camrosa Ointment to an itchy pony - Link here.

TESTIMONIALS
"I would just like to say thank you for your very prompt service, it has saved my Shetland pony a lot of discomfort. I used it last year also and his coat grew back lovely. Once again thank you. A very satisfied customer." Mrs E. Smith, Carmarthenshire.
" Having a horse with sweet itch and trying just about everything on the market, I have finally found what I've been looking for, I urge every horse owner to give it a try, you honestly won't be disappointed, would never be without it!" Alice Ford, Facebook
"... this young horse stopped rubbing the minute it was applied. What a relief for her and me. Also excellent is the fact that the horse can stay out and not be driven to distraction, rubbing constantly. What a marvellous product. I have been recommending it to everyone." L. Vincent, Oxfordshire.
Information by animal